Stationary Storage Systems – a Contribution to the Energy Turnaround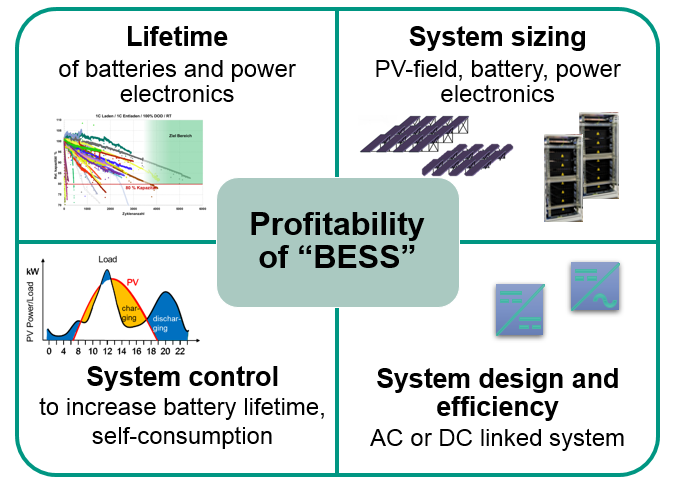 The further expansion of the share of electricity produced from renewables is one of the core elements of the German energy turnaround. However, especially power generation from wind turbines and photovoltaic systems is subject to natural intermittency due to weather conditions and the time of the day. Stationary energy storage systems can compensate the fluctuation of photovoltaic systems and thus are key elements to an economic energy supply based on renewable energies.
Despite the still high costs for li-ion batteries, this technology can already be profitable, especially in regions without stable power grids that currently use diesel generators for energy supply. By an appropriate system design and load profile, a PV-lithium-ion battery system can here be operated in a cash-positive mode.
At Battery Technology Center, several pilot plants of photovoltaic, small wind power plants, lithium-ion batteries and power electronics are being built up in the solar power storage park to demonstrate how load peaks in the grid can be balanced and what regenerative power supply by an isolated network may look like in the future. Different systems – a pilot system in AC-coupling and DC-coupling – will help to identify the best system design for different applications.

For an economic and grid-optimized operation, an intelligent total system control operates the battery depending on the energy production forecast as well as the current energy demand of the operator. This is realized by autonomous self-learning prognoses for energy production and load.

Besides an intelligent operation, the profitability of a stationary storage system especially depends on the total system dimensioning and the design of the single components. Battery Technology Center developed therefore a simulation tool that also can be applied in customer projects.


Contact: BBA/M.Sc. Nina Munzke

Reference project:
Installation of a stationary battery system with 76 kWh at Helmholtz Institute Ulm (press release)

Further information